Install Horizon Client on Windows:
1.  Click here to go to the VMware Horizon Client Download site.
2.  From the Download site click the "Go to Downloads" link to the far right of the Product name.

3. a) Use the "Select Version" option to choose the version recommended by your IT Administrator (if applicable).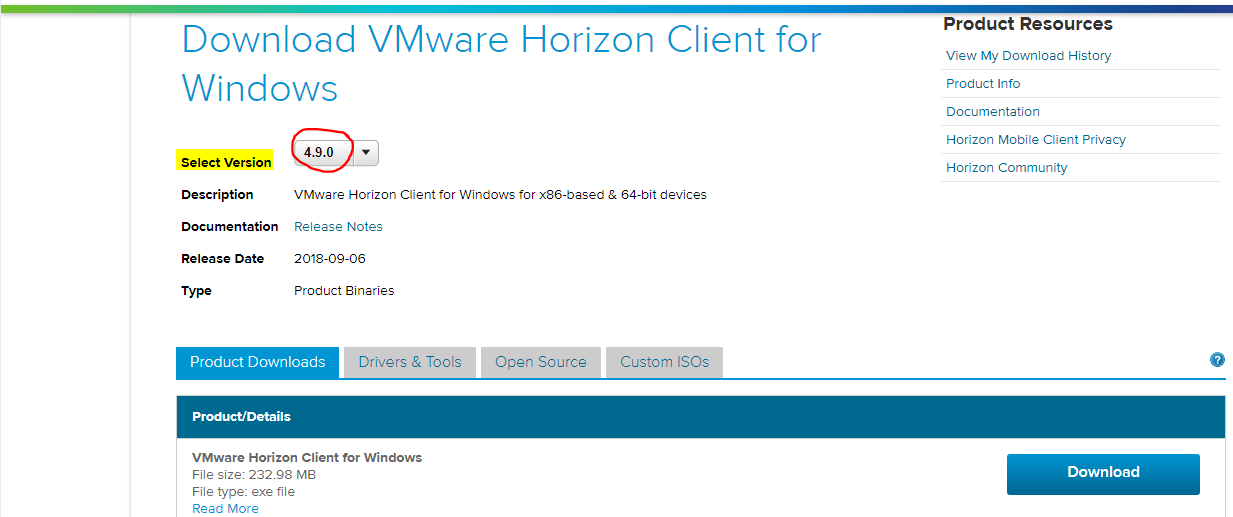 b) Click the "Download" button on the right side of the resulting "Product Downloads" tab.
4.  Click "Run," if you are given the option to Run or Save the download file, otherwise, download the file and double-click it to begin the installation.
Internet Explorer displays a download progress window as follows:
5.  Once the installation process starts, click "Next" on the VMware Horizon Client Welcome screen:
6.  Check the box to accept the terms in the License Agreement - see below:
7.  Click "Next" on the Custom Setup Screen - see below
8.  Enter the Connection Server name/Portal URL provided by your IT Admin. or Service Provider (eg. portal.company.com) and click "Next.
9.  Click "Next" on the "Enhanced Single Sign On" window, or set it to automatically log on as the same user, if applicable.
10.  Click "Next" on the following screen(s) and then click "Install"
11.  Click "Finish" once the installation completes and then Restart your computer.
12.  IMPORTANT:  After restarting the computer, run the VMware Horizon Client. Then click on the options menu in the upper right corner - see below
Click on the option to "Hide the selector after launching an item."
Note: Clicking the options button again should reveal a check mark to the left of this option, if set correctly.